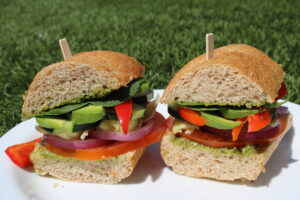 7 Fresh Deli Sandwiches You Must Try!
Have you tried one of our fresh house-made deli sandwiches? If not, you are missing out! Head on over to our deli counter, and we will whip up a freshly-made delicious sandwich for you!
Produce Guy - Our most popular sandwich will surely satisfy your cravings! Smoked turkey with avocado topped with pesto, bacon, red onions, lettuce, tomatoes, pickles, pepperoncini, and Swiss cheese on a sourdough roll. A scrumptious go-to sandwich that our customers come back for over and over again.
Delucchi's Special - Another customer favorite! Our house-grilled chicken breast with provolone cheese, honey mustard, mayonnaise, pepperoncini, lettuce, and tomatoes on a fresh Dutch Crunch roll. A wonderful combination of ingredients that will surely make you come back for more.
Queen Victoria - One of our best sellers! French roll with Delucchi's house-made grilled chicken breast, bacon, silky mozzarella cheese, and sautéed mushrooms. This flavorsome sandwich is perfect for a nice little picnic or on-the-go.
Florence St. Special - A wonderful demi sourdough baguette with hot coppa, Toscana salami, prosciutto, garlic aioli, spring mix, and lettuce. A lovely combination of delightful ingredients.
Red Hot - Zesty southwest turkey and roasted red peppers with red onions, bacon, pepper jack, tomato, and chipotle mayonnaise on a French roll. This fiery sandwich will surely stimulate the taste buds.
Garden Greens - Vegetarian? No problem! Fresh avocado, artichoke hearts, spinach, pesto, red onions, tomatoes, cucumbers, and red bell peppers on a wheat roll. Earthy, light, and fresh flavor!
Call Me Cowboy - Honeyed and spicy! Dutch crunch roll with pastrami, spicy mustard, Swiss cheese, and provolone cheese. A bright and fresh, tasteful sandwich.
You can also build your own sandwich! Call our deli department today to place your sandwich orders at (650) 216-7600.
Take a look at our deli menu below.
---